The history of polaroid, 1978
The History of Polaroid chronicles the history of this groundbreaking company, their many inventions including Polaroid Land Camera, Model 95, 3-D films, the SX-70 camera, Polavision, and sonar focusing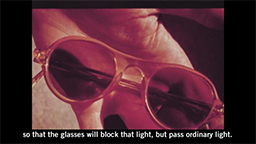 An Invention that Controls Light
Edwin Land describes the invention that launched Polaroid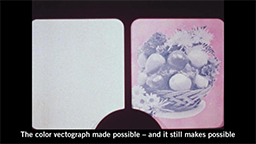 The Vectograph
Polaroid developed a type of 3-D photography for use in World War II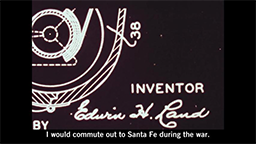 A Simple Question, A Big Idea
A question from his daughter sparks Land's big idea
Light Control through Polarization, ca. 1960
The Polaroid Corporation and Loucks and Norling Studio produced this film outlining the many benefits of polarizing materials. The film describes how polarization works and some of the products it made possible, including table lamps, automobile headlights, airplane windows, and cellophane displays. The film also explains how polarized light filters work and how they benefit photographers.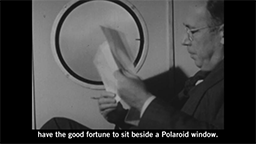 Practical Uses for Polarizers
Polarizing filters made travel safer and more comfortable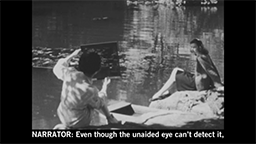 Why Use a Polarizing Filter?
Using polarizing filters to improve photographs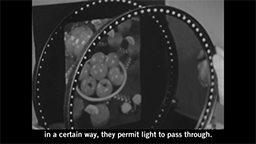 A Basic Demonstration
A demonstration of polarizing discs
Annual Christmas Message to Employees of Polaroid Corporation, 1946
At the annual staff Christmas party in 1946, Edwin Land laid out his vision for the Polaroid Corporation as a science-based research and manufacturing company.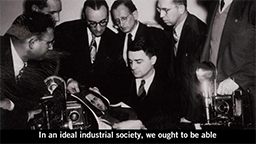 Running a Healthy Company
Excerpt from audio recording of Edwin Land's 1946 message to employees of Polaroid.
Featured Spots, 1954–1975
An early advertiser on television, Polaroid featured spots on the late-night talk shows of Steve Allen, Merv Griffin, and Dick Cavett. The famous hosts demonstrated the wonders of the one-minute photo process by taking pictures in front of a live studio audience.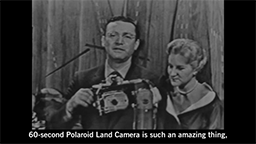 A Celebrity Demo:
Talk show host Steve Allen and Margaret Whiting, a singer of popular American music, demonstrate the magic of the Polaroid Land Camera, Model 95
Bob Casselman Sales Training Film, 1957
Polaroid Corporation Chief Marketing Executive Bob Casselman provides instructions on how to market the Polaroid Land Camera.
Marketing an Innovation
In this silent film, a woman demonstrates how easy it is to load film and take photographs with the Polaroid Land Camera, Model 95.