"Within the hour, the camera, the film, and the physical chemistry became so clear to me."
Edwin Land, "On Some Conditions for Scientific Profundity in Industrial Research," June 17, 196541
By 1943, Edwin Land began to turn his thoughts to the post-war production efforts of Polaroid. The corporation had significantly expanded its research and engineering division for military activities and would need to focus on a new commercial product. By the end of the war, revenues from sales would fall, and Land would have to let go of hundreds of employees. Land's patent attorney Donald Brown explained, "Before the end of the War Dr. Land had decided that the expansion of the company's business could most readily be accomplished if some revolutionary product could be developed and introduced in the photographic field, which he considered ripe for invention."42
The inspiration for instant photography planted itself in Land's imagination during a family vacation in 1943:
"I recall a sunny vacation day in Santa Fe, New Mexico, when my little daughter asked why she could not see at once the picture I had just taken of her. As I walked around that charming town I undertook the task of solving the puzzle she had set me. Within the hour, the camera, the film, and the physical chemistry became so clear to me that with a great sense of excitement I hurried over to the place where Donald Brown, our Patent Attorney (in Santa Fe by coincidence) was staying, to describe to him in great detail a dry camera which would give a picture immediately after exposure."43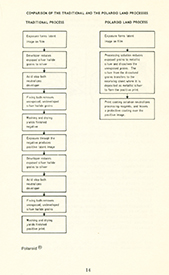 Correspondence dating to late 1943 reveals Land's early concepts for instant photography and his first mention of the idea to colleagues. On December 27, 1943, Richard Kriebel wrote about a momentous conversation with Land just a few weeks earlier: "On Dec. 10, 1943 at his home, Edwin H. Land disclosed to me a novel self-developing film which when mounted in a camera of novel construction is adapted to produce a positive print shortly after exposure of the film within the camera."44 In a memorandum dated December 23, 1943, Frederick J. Binda, a research chemist, recounted, "On December 13, 1943, Mr. E. H. Land called me to one side and said he had a secret to tell me. He said that for years he had been toying with the idea and dreaming about a new photographic camera in which you simply photograph a subject and from that same camera roll out a finished picture. He told me that he now knew how to make such a camera."45
The required series of steps in conventional photographic processing include exposing a negative in a camera and then developing, rinsing, fixing, washing, and drying the negative. To reverse the image, the negative is then contacted with a positive sheet, which is also developed, rinsed, fixed, washed, and dried. Land envisioned a one-step photographic system that would develop both a negative and a positive sheet in a single process and produce a stabilized, dry print in a compressed period of time.
Land wanted to capitalize on the qualities already inherent in the silver halide compounds, noting that at an "early stage, we determined to use the old-fashioned, wonderful negative materials, adapting them to our special needs."46 Referring to the simultaneous development of the negative and the positive, Land described, "the photographic dark room, where all these steps are carried out, as a fine, romantic place—a place of silver and hypo and darkness. Our problem is to carry out all of these operations in one step in a dry camera, without any tanks or baths —and without a dark room."47 Instant photography would thus emerge from the principles of traditional photographic techniques and as a product of a revolutionary process Land was on the verge of developing.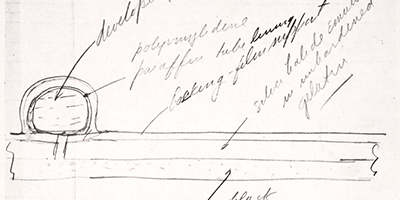 41.

Land, "On Some Conditions for Scientific Profundity in Industrial Research," 5.

42.

Brown, "Protection Through Patents: The Polaroid Story," 448.

43.

Land, "On Some Conditions for Scientific Profundity in Industrial Research," 5

44.

Richard T. Kriebel, December 27, 1943, Polaroid Corporation Research and Development Records, Box II.26, Folder 7, Baker Library, Harvard Business School.
45.

Frederick J. Binda, "Mr. Land's New Photographic Camera," December 23, 1943, Polaroid Corporation Legal and Patent Records, Box II.26, Folder 7, Baker Library, Harvard Business School.

46.

Edwin H. Land, "From Imbibition to Exhibition: A Reconstruction of a New Photographic Process," Journal of the Franklin Institute 263, no. 2 (February 1957): 122.

47.

Land, "From Imbibition to Exhibition," 123.