Introduction
The camera has chronicled the history of industry since the invention of the medium in 1839, and the photograph holdings at Baker Library Historical Collections are the result of a tradition of extensive collecting efforts for research and teaching that began with the founding of Harvard Business School (HBS) in 1908.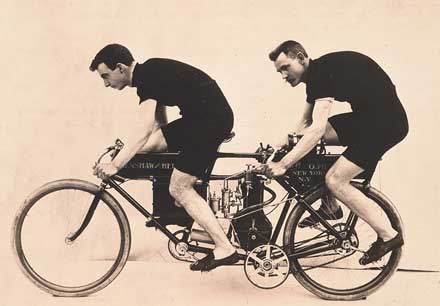 Charles S. Henshaw and C.O. Hedstrom custom built machine
, ca. 1901. General File Photograph Collection.
Today the photographic collections hold more than 22,000 images of factories, equipment, techniques, processes, and people at work in industrial settings ranging from automobile plants to paper mills. Researchers will find photographs relating to U.S. industry as well as business operations in Central and South America, Europe, Africa, and Asia. The collections' particular strengths include stunning examples of industrial photography between the World Wars, extensive photographic records of the United Fruit Company in South and Central America, advertising images from automobile manufacturers in the 1930s and 40s, nineteenth-century commercial and city views of Boston, and an extensive portrait file of prominent business leaders collected in the 1930s and 40s.
The holdings included in this guide focus on discrete collections containing photographs only. In addition to the holdings described here, the HBS Archives Photograph Collection includes 10,000 images that illustrate Harvard Business School faculty, staff, students, buildings, events, and activities. Various manuscript collections also house significant photographic material.