Oil Industry Photographs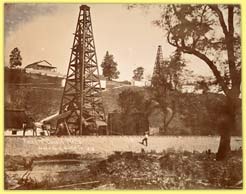 A correspondent for the New York Daily Tribune visiting Pennsylvania in the 1860s wrote, "The excitement attendant on the discovery of this vast source of oil was fully equal to what I ever saw in California when a large lump of gold was accidentally turned out." Within a short time, the area had transformed into sprawling, dirty boomtowns with oil wells, gambling casinos, and hotels. Investors hoping to strike it rich and men searching for work populated the area. Women tended nearby farms where many families lived, and children became "oil dippers," collecting oil that floated to the surface of streams and pools.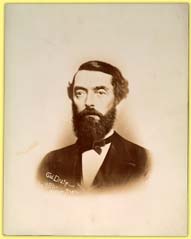 These images are from two recently acquired rare volumes of prints by photographer John Mather, documenting the pioneering work of Edwin Drake and the birth of the oil industry in Titusville, Pennsylvania. After stints as a dry-goods salesman, steamboat clerk, and railroad conductor, Drake became an agent for the Pennsylvania Rock Oil Company of Connecticut, which later became the Seneca Oil Company. Founders of the newly formed company were interested in oil, used for medicinal purposes by the Seneca Indians, as a machine lubricant and as lamp oil. They sent Drake to Titusville, where he developed an ingenious system of drilling based on salt well technology. Working tirelessly for a year, he finally struck oil at 69.5 feet deep on August 27, 1859.
John Mather, an English immigrant, traveled to Pennsylvania in October 1860 after learning about Edwin Drake's success. He recorded the rapidly changing landscape in Titusville and other oil boomtowns in the area. He maintained a studio in Titusville, a portable darkroom on a horse-drawn wagon, and a "floating studio" in a boat on Oil Creek. In 1892, thousands of Mather's glass-plate negatives were destroyed in a flood and fire, contributing substantially to the rarity of the surviving images shown here.