The Campus Emerges
"There followed the hissing of steam and grinding of mesh of gears. An anxious crowd followed the deliberate movement of the long crane as it dipped downward. With a huge gulp the steam shovel swallowed it first scoopful of earth on the site of the new business school."
Harvard Business School Bulletin, 1925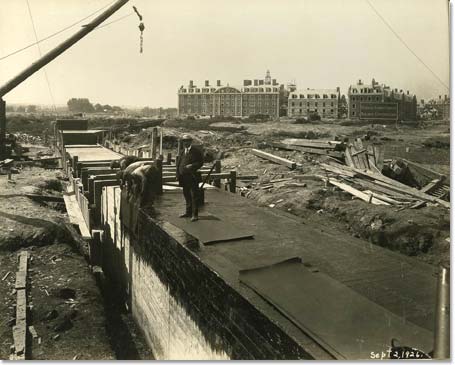 Construction of Weeks Bridge.
As work commenced, the building team faced the critical question of how to supply energy to the new Business School campus. Rather than build a new power station in Allston, the University decided to transport heat and electricity from an existing facility. Power would be conveyed across the Charles River via a series of pipes. A footbridge, built down the river from the Anderson Bridge, would supply a foundation to carry the pipes and also allow easy access to and maintain a connection with the Cambridge campus.
Work crews laid pipes in trenches dug out along Cambridge streets, incorporated them into the structure of the bridge, and continued their journey through the swampy area around to the Business School. Friends and colleagues of the late John W. Weeks, a businessman and politician, donated more than $200,000 for the construction of the elegant brick-and-limestone bridge, also designed by McKim, Mead & White. Dedication of the bridge on May 14, 1927 featured a military procession and drew large crowds along the banks of the river.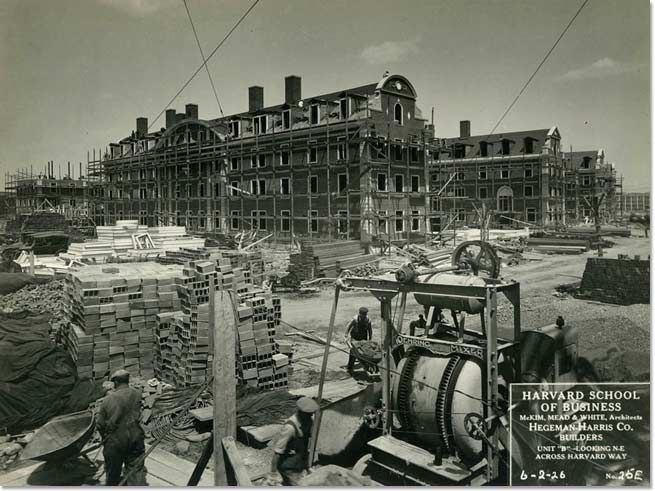 Construction View, East Dormitories, June 1926
Hegeman-Harris Company, the contractors hired to construct the HBS campus, broke ground on June 2, 1925. Harvard's Chemistry and Fine Arts buildings then under construction, also employed workers from Hegeman-Harris, leaving labor sometimes in short supply at the Business School. Completion of the campus dormitories, however, took only sixteen months, allowing more than 750 students to move in the fall of 1926 as planned. Work on most of the remaining facilities concluded the following year.
The campus emerged rapidly from the formerly marshy area over a two year period. In order to keep within the budget some cost-cutting measures proved necessary, such as reducing the marble trim for Baker Library and eliminating various buildings proposed in the original plans. McKim, Mead & White argued that towers for each dormitory block were critical to the overall design (illustrating their point with an altered photograph in which hand-drawn towers appear on the dormitory units). But these features, considered too costly, were never built.
At the project's end, McKim, Mead & White commissioned a noted architectural photographer Paul J. Weber to take photographs of the new campus. Donham presented George F. Baker with an album of the artistic views, and the October 1927 issue of The Architectural Forum featured Weber's photographs in an article about the design and construction of the Harvard Business School's new home.