George F. Baker
"It is with a peculiar feeling of personal liking that young graduates and old can recall the living memory of this quiet, sagacious and courageous New Englander who could understand the needs of present day society and . . . take what was best in his own past and apply it for the good of the present and the future."
Harvard Business School Yearbook, 1931–1932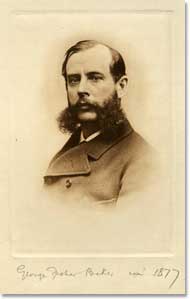 George F. Baker, 1877.
The Business School agreed not to limit its 1924 fundraising appeal to Harvard graduates, but to cast a wide net to leaders in business—including George F. Baker, Director of the First National Bank and one of the "builders of the American business structure."9 Born in 1840 in Troy, New York, Baker spent much of his youth on his aunt's farm in Massachusetts. At the age of twenty-three, he invested $3,000 to become an original shareholder in the First National Bank (now Citibank), which under his guidance remained a dependable institution throughout the financial panics of the late nineteenth and early twentieth centuries. Baker rose from teller to the bank's president and largest shareholder and served on the board of more than forty corporations, many of them railroads. In addition to buying and revitalizing several failing railroads, Baker also had great success in utilities, steel, and rubber industries.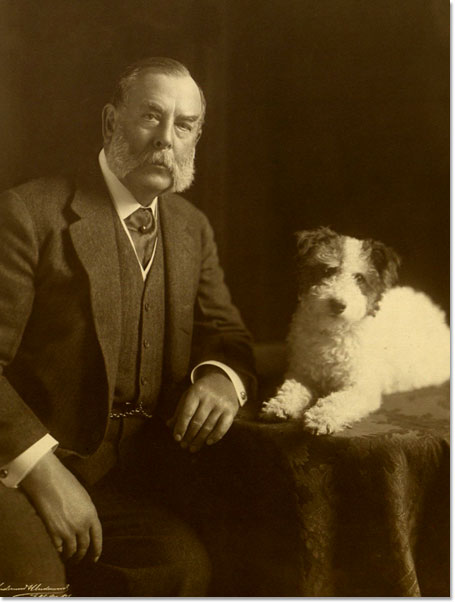 George F. Baker and "Peggy."
Baker's philanthropic activities included support for the construction of Dartmouth College's Baker Library, dormitories and a chemical laboratory at Cornell University, and the purchase of land and construction of athletic facilities at Columbia University. (When he attended a 1919 football game between Columbia and Cornell, both sides cheered him.) He also gave generously to the Metropolitan Museum of Art and the Red Cross. Known for having the "hardest shell and softest heart," friends remembered his "homey kindliness" and love of outdoors. Baker kept a low profile and rarely gave interviews, but those in business and government consistently sought advice from the man who had lived through ten financial panics and still kept his optimism and judgment intact.
9

Sheridan A. Logan. George F. Baker and His Bank 1840-1955: A Double Biography. [St. Joseph, MO.] : S.A. Logan, c. 1981, p. 6. ←