McKim, Mead & White
"[McKim, Mead & White] won this anonymous competition . . . not because of their reputation, but because they produced a compact, straightforward layout of the desired semi-domestic character."
Harvard Graduate School of Design Professor Charles Killam, Harvard Business School Alumni Bulletin, 1945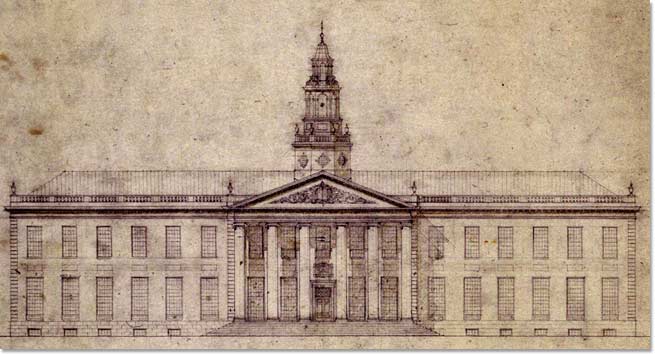 Baker Library (front view with Cupola), McKim, Mead & White.
On January 10, 1925, in a blind selection, George F. Baker, Harvard President A. Lawrence Lowell, HBS Dean Wallace B. Donham, and several architects unanimously voted for the plan created by the New York-based McKim, Mead & White, one of the country's preeminent architectural offices. Known for its simple, classic designs, the firm had worked on a number of landmark structures at Harvard including the Memorial Fence, Johnson Gate, Robinson Hall, Harvard Union, and Harvard Stadium. Unlike other University buildings designed to fit within the existing, historic Cambridge grounds, the new site on the other side of the Charles River offered the architectural firm a blank slate on which to envision a single, unified campus.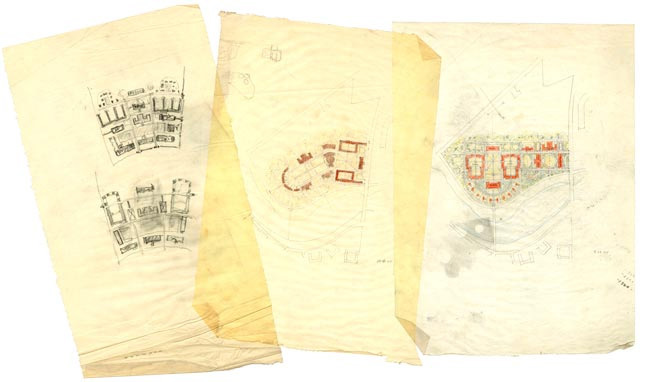 Series of campus sketches. Collection of the New-York Historical Society.
"McKim, Mead & White were dedicated traditionalists," architectural historian Leland Roth notes in his study of the firm, "drawing from the past those elements which seemed to them to enhance and amplify function and experience."14 The firm's preliminary sketches reveal how it arrived at its overall design: a series of Georgian-style structures—an architectural theme linking the Business School with other Georgian-style buildings in Harvard's Cambridge campus—fanning out from a trapezoidal court that followed the curve of the river. At the center of the court stood Baker Library flanked by two groupings of dormitories. Pedestrians and motorists on either side of the river were afforded a view of the main court and Library with its grand portico. Harvard Professor Charles Killam noted that the "compact, straightforward layout of the desired semi-domestic character" had universally appealed to the selection team.15