Instrument of Pictorial Publicity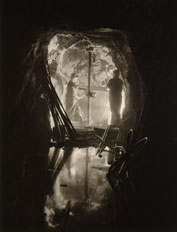 William M. Rittase. Down in the Gold Mines, ca. 1934. olvwork490179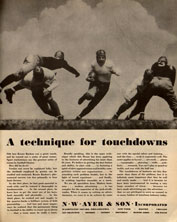 N.W. Ayer and Son Advertisement. Fortune X:4 (1934):133. By permission of the Archives Center, National Museum of American History, Behring Center, Smithsonian Institution.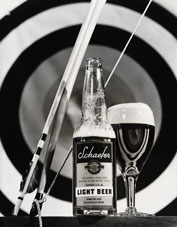 Victor Keppler. Beer and Target, ca. 1934. olvwork490099
Documentary, public relations, and advertising photography were at the heart of the NAAI exhibition. The New York Times's 1934 review explained that this concerned "publicity of any image of any object, or symbol of any idea that is desired for any reason of business or politics."5 The idea of the photographer-as-reporter had assumed special significance in the 1930s in the work of Farm Security Administration photographers and others, whose images were considered "documentary," possessing a convincing degree of realism. In her book Artists, Advertising, and the Borders of Art (University of Chicago Press, 1995), Michele Bogart notes that "The social reconfirmation of photography as 'factual truth' provided further incentive for advertisers to use it for public relations as well as advertising purposes."6 Thus, readers of Fortune magazine would see William Rittase's documentary images of workers and factories in its editorial pages, and his "commercial" work—such as a football scene touting teamwork as the key to the success of the firm N. W. Ayer & Son—in its advertisements.
The NAAI exhibition brought together exemplary examples of commercial photography of the time, providing an opportunity "for every one to see the great progress made during the last decade, particularly along advertising and industrial lines."7 In the 1930s, many believed the failing U.S. economy threatened the private enterprise system itself, and as the Great Depression wore on a sense of obligation arose among business executives to inspire renewed faith in the economy. Advertisers turned to the camera to project an image of confidence in both the production and sale of consumer goods. On display at Rockefeller Plaza were works by artists whose Machine Age photographs revealed the geometric beauty of factories and production lines and celebrated American industrial might. Other images included product advertisements. Corporate success, executives understood, depended on brand-name recognition. Photographic ads in popular magazines, like Victor Keppler's arresting composition for Schaefer Beer, helped transform local companies into nationally recognized brands.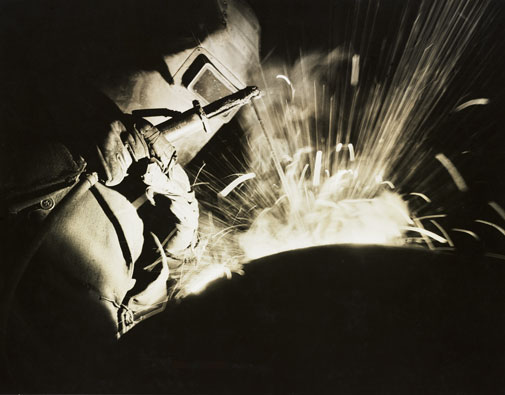 William M. Rittase. The Boiler Maker, ca. 1934. olvwork490181
H. I. Brock, "The Magic of the Clicking Camera," New York Times, September 16, 1934.
Michele H. Bogart, Artists, Advertising, and the Borders of Art. Chicago: University of Chicago Press, 1996. p. 203.
"Photograph Show to Open Tuesday," New York Times, September 15, 1934.