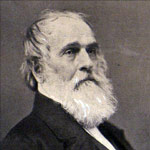 When the proposition was first made of my going to China with Uncle Augustine I jumped at it. I knew it involved a question of years, but there was a romantic side to it which appealed to my imagination. I thought, too, that under his protection I had a much greater chance of success than at home.
— John Heard reflecting on his first trip to China in 1841, from his diary, 18914
Augustine Heard & Co.: Building a Family Business
Augustine Heard grew up in Ipswich, Massachusetts, surrounded by ships and sailors and the success of his father, John Heard, a shipping merchant active in the West Indies. He attended Phillips Exeter Academy in New Hampshire, but never graduated. At at young age Heard became captain of his own brig. He traveled to ports as far-flung as Rio de Janeiro, Liverpool, and Canton, battling weather, disease, and pirates, and soon earned a reputation as a skilled navigator and merchant. Augustine gave up his seafaring ways and joined Russell & Co. when he was 45, and in 1840 he started his own concern with his partners Joseph Coolidge and George Basil Dixwell.
In 1841, Augustine invited John Heard, his eldest nephew, to accompany him to China. Childless and never married, Augustine remained devoted to his nephews, the four sons of his brother George Heard. John's brothers—Augustine Heard II, Albert Farley Heard, and George Washington Heard (who eventually changed his name to George Farley Heard)— would also serve respective terms in China. "American boys of college age came to China to seek their fortunes, and they expected opportunities there to equal, if not surpass, those available to the enterprising in a rapidly expanding America," historian Stephen Lockwood explains.5 John wrote that Augustine advised him, "I could make money enough to get away as quickly as possible, and that he had no doubt that I could do better here."6
"For all of [the trading companies] which became well established . . . the principle of continuity was invariably kinship," Jacques Downs, a scholar on American trade in China, writes. "[A] firm had generally become identified with a stem family or families and its . . . dynastic alliances."7 While Augustine Heard & Co. had many partners over the years, these close familial relations were critical to the running of the company. John and his brothers benefitted from the wisdom of their uncle and each other's counsel. John, for example, noted his uncle Augustine's immediate attentiveness to him upon his arrival in China. "Uncle Augustine is very kind to me. . . . When he is not busy he always seems very glad to converse with me. . . . and manifested a mostly friendly interest in my well doing."8
Over the years John and his brothers quickly came to learn the family business. Arriving in Canton in 1855 after graduating from Yale, Albert Heard described his own transformation in only a year: "Then a boy with anxious and aspiring hopes now as it were a man, doing a man's part and a serious sober part, responsible too, then looking forward to unknown duties & strange scenes, now those duties are familiar. . . . Then not even a clerk now a merchant & a head man of a firm. Truly I am changed."9