Illumination Studies and Relay Assembly Test Room
They say figures don't lie, but we have shown that we can take a set of figures and prove anything we want to.
Donald Chipman, Supervisor, Western Electric, 1931

Illumination Study, 1926
Research on productivity at massive manufacturing complexes like the Hawthorne Works was made possible through partnerships among industries, universities, and government. In the 1920s, with support from the National Research Council, the Rockefeller Foundation, and eventually Harvard Business School, Western Electric undertook a series of behavioral experiments. The first, a sequence of illumination tests from 1924 to 1927, set out to determine the effects of lighting on worker efficiency in three separate manufacturing departments. Accounts of the study revealed no significant correlation between productivity and light levels. The results prompted researchers to investigate other factors affecting worker output.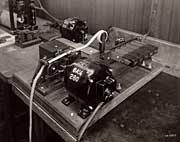 Performance Recording DeviceThe next experiments beginning in 1927 focused on the relay assembly department, where the electromagnetic switches that made telephone connections possible were produced. The manufacture of relays required the repetitive assembly of pins, springs, armatures, insulators, coils, and screws. Western Electric produced over 7 million relays annually. As the speed of individual workers determined overall production levels, the effects of factors like rest periods and work hours in this department were of particular interest to the company.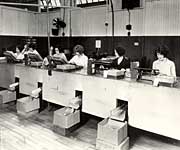 Women in the Relay Assembly Test Room, ca. 1930 In a separate test room, an operator prepared parts for five women to assemble. The women dropped the completed relays into a chute where a recording device punched a hole in a continuously moving paper tape. The number of holes revealed the production rate for each worker. Researchers were unsure if productivity increased in this experiment because of the introduction of rest periods, shorter working hours, wage incentives, the dynamics of a smaller group, or the special attention the women received. In 1928, George Pennock, a superintendent at Western Electric, turned to Elton Mayo at Harvard Business School for guidance. "We're going to have a man come out from one of the colleges and see what he can tell us about what we've found out," Pennock wrote. 1