The Audience:
Public Relations and the Archive
The photographs not only supplement instruction secured from textbooks and lectures, but they form the basis of a collection which will be of lasting interest into the future.
Frank Ayres,
Executive Secretary of the Business Historical Society, 1933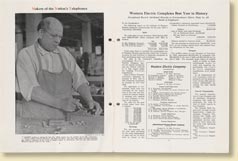 The art of industrial relations involved a sensitive interplay of workers, managers, and public image. Publicity departments in the 1930s could choose from a variety of venues and targeted audiences to convey the image of a powerful industrial enterprise to which satisfied workers devoted themselves. Fortune magazine, for example—the quintessence of sophistication in graphic design and photojournalism—catered to the elite managerial class, portraying the interaction of worker and machine as vital and beautiful. The fast-growing genre of employee magazines such as Western Electric News were written for, and from the point of view of, the worker. These publications featured employee profiles and full-page occupational portraits with accompanying captions and essays commending workers' indispensable skills and contributions.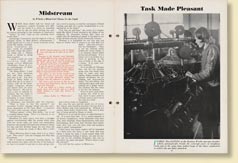 Companies that responded to the Business Historical Society's request for images also found a home for publicity photographs at Harvard Business School, where human relations was becoming a growing focus of the curriculum. "I felt that if I could obtain photographs which reveal the courage, industry and intelligence required of the American working man," Davenport wrote, "perhaps our students could learn to look upon the working man with some degree of respect and sympathetic consideration."
This was an archive that Ayres and Davenport envisioned as having value for both present and future generations studying the history of industrial management. The photographs that businesses donated and students viewed were records of industrial production practices of the time seen through the artistic lens of the Machine Age. Today, the surreally striking views comprise a collection of celebratory images of corporate America, commissioned by business managers and collected by business educators coming to terms with the "human factor" in the economic climate between the two world wars.